Electronic dictionary and translator iTravl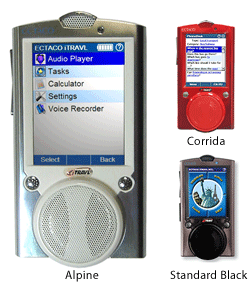 Are you planning a trip but donít have time to learn the language before you leave? Or maybe youíre visiting several different countries on your journey, and feel overwhelmed with the number of languages youíd need to familiarize yourself with? Donít want to lug along phrase books and heavy dictionaries? The Ectaco iTRAVL can simplify your life, allowing you to enjoy your adventure and have peace of mind.
The iTRAVL provides tutoring and translation for English, Russian, Spanish, German, French, Chinese, Japanese, and Portuguese. Slip it into your carry-on bag along with a set of headphones, and get a head start by using the language learning program while youíre on the plane. The Language Teacher Program can take you from a novice to a fluent speaker quickly, allowing you to speak and comprehend the language of your choice.
Once you're on the ground, iTRAVL can help you navigate to your hotel or restaurants. It comes equipped with detailed maps, addresses, and advice about your new location. This feature, called iHELP, puts local emergency phone numbers and frequently used phrases right at your fingertips. All you need to do is speak a phrase into the iTRAVL, and then it will speak the translation back to you instantly.
Would you like to translate the local news headlines? Punch them in and stay abreast of the latest news. iTRAVL will translate them back into English, displaying the text on the screen. You can translate whole paragraphs of text in this manner.
Are you lost? Type your question or dilemma into your iTRAVL, click Translate, and show the screen to a local so they can read it and direct you. What if you have a medical issue and need to visit a hospital? Your iTRAVL could be a real lifesaver by enabling a doctor to quickly understand your symptoms or pre-existing conditions, and provide the appropriate treatment.
If you donít like typing, you can use the speech-to-speech translation feature. Your iTRAVL is equipped with cutting edge speech recognition technology. It contains tens of thousands of words and phrases in the language of your choice. Just speak the phrase into your iTRAVL, your phrase will be translated into the local language and spoken back to you in the voice of a local speaker.
And if you will be visiting more than one country on your travels, there is no need to buy more than one iTRAVL, like you would with other electronic dictionaries. iTRAVL offers each language combination on SD cards (purchased separately). These cards contain all the features outlined above for each new language youíd like access to.
You can rest assured that youíre making a sound investment when you purchase an iTRAVL. Itís an Innovation Award Winner from the Consumer Electronics Association. Weighing in at only 7 ounces, itís lightweight yet durable. It even comes with a one year international warranty. Take iTRAVL with you on your next trip, and youíll never want to travel without it again. Order yours today!